Adobe Brics
These are unfired, sun-dried building blocks, made of earth with a fairly high clay content and straw. If produced manually the earth mix is cast in open moulds onto the ground and then left to dry out.
Adobe is essentially a dried mud brick, combining the natural elements of earth, water, and sun. It is an ancient building material usually made with tightly compacted sand, clay, and straw or grass mixed with moisture, formed into bricks, and naturally dried or baked in the sun without an oven or kiln. It is used today but also found in primitive architecture: mud bricks were used even before the grand ancient stone temples of Greece and Rome. Construction methods and the composition of adobe-the recipe-vary according to climate, local customs, and the historical era.
I Adobe's strength and resilience vary with its water content: too much water weakens the brick. Today's adobe is sometimes made with an asphalt emulsion added to help with waterproofing properties. A mixture of Portland cement and lime may also be added In parts of several states in India, fermented cactus juice is used for waterproofing. Today's commercial adobe is sometimes kiln- dried, although purists may call these "clay bricks." Traditional adobe bricks need about a month of drying in the sun before they can be used.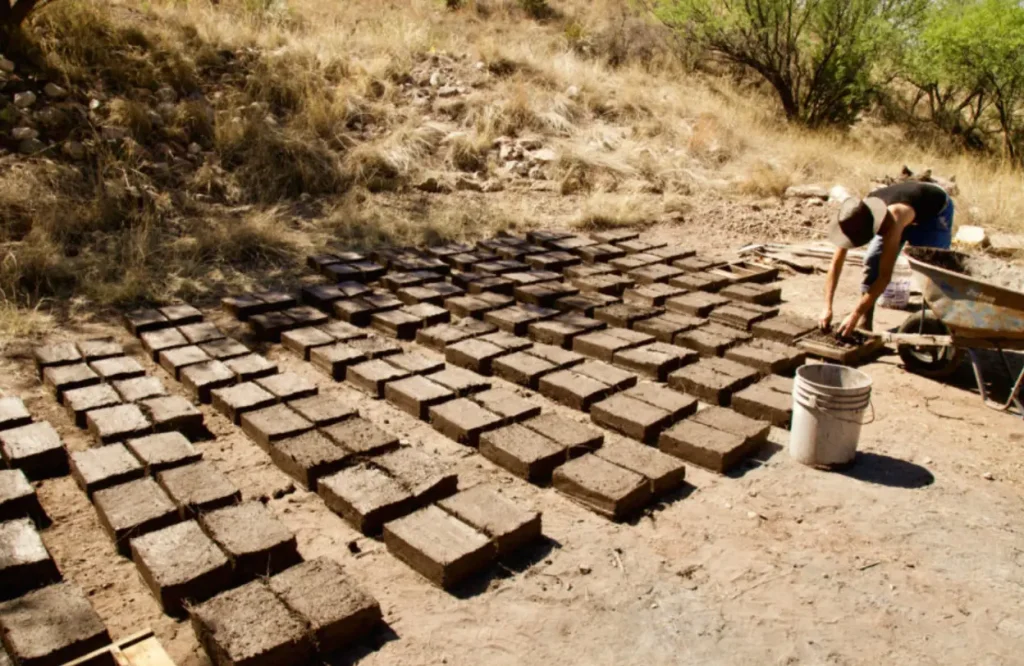 Traditional Methods of Construction
Adobe brick walls, once in place, are usually protected by applying a variety of substances. Before an exterior siding is applied, some contractors may spray on insulation for added thermal protection-a dubious practice in the long term if it allows the bricks to retain moisture. Worldwide use of adobe is mainly in rural areas, where houses are typically one story, 3 m high, with wall thicknesses ranging from 0.25 m to 0.80 m. In mountainous regions with steep hillsides, such as the Andes, houses can be up to
three stories high. In parts of the Middle East, one finds that the roof of one house is used as the floor of the house above.
Earthquake Performance
In addition to its low cost and simple construction technology, adobe construction has other advantages, such as excellent thermal and acoustic properties. However, most traditional adobe construction responds very poorly to earthquake ground shaking, suffering serious structural damage or collapse and causing a significant loss of life and property. During strong earthquakes, due to their large mass, these structures develop high levels of seismic forces, which they are unable to resist, and therefore they fail abruptly. Typical modes of failure during earthquakes are severe cracking and disintegration of walls, separation of walls at the corners, and separation of roofs from the walls, which can lead to collapse.